Hong Kong and the Mainland may complete customs clearance by mid-January! Home quarantine 0+3 May also be coming!
2022-12-28 10:38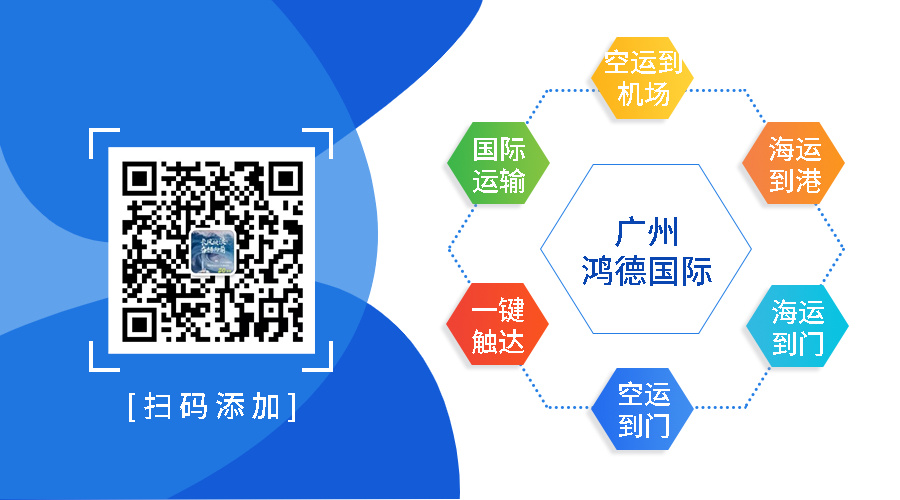 Hong Kong and the mainland aim to clear customs by mid-January
Finally looking forward to some good news!
Hong Kong Chief Executive Li Ka-chiu said Tuesday that the central government has agreed that Hong Kong can gradually and orderly complete customs clearance with the mainland.

Li Jia-chao said that the Hong Kong SAR Government will immediately set up a coordination team on "customs clearance", which will be led by the Chief Secretary for Administration of the HKSAR Government to communicate with relevant mainland departments on the implementation of relevant arrangements on "customs clearance", and formulate a plan for the central government to approve. It is expected to be implemented gradually and orderly by mid-January next year.
Li Jiachao pointed out that the initial requirements for "customs clearance" are quite high, and many factors such as the number of "customs clearance" and risk management need to be considered. The SAR government will immediately contact the Guangdong provincial government and other relevant departments to communicate and formulate a plan.
The customs clearance in Hong Kong means that the entry conditions of Hong Kong are fully liberalized, and Hong Kong people can directly enter the mainland for tourism, personnel exchange, commercial trade and other activities, without the need to implement the quarantine policy.
Hong Kong and Macau have cleared customs first!
On December 23, the Macao government officially announced the news!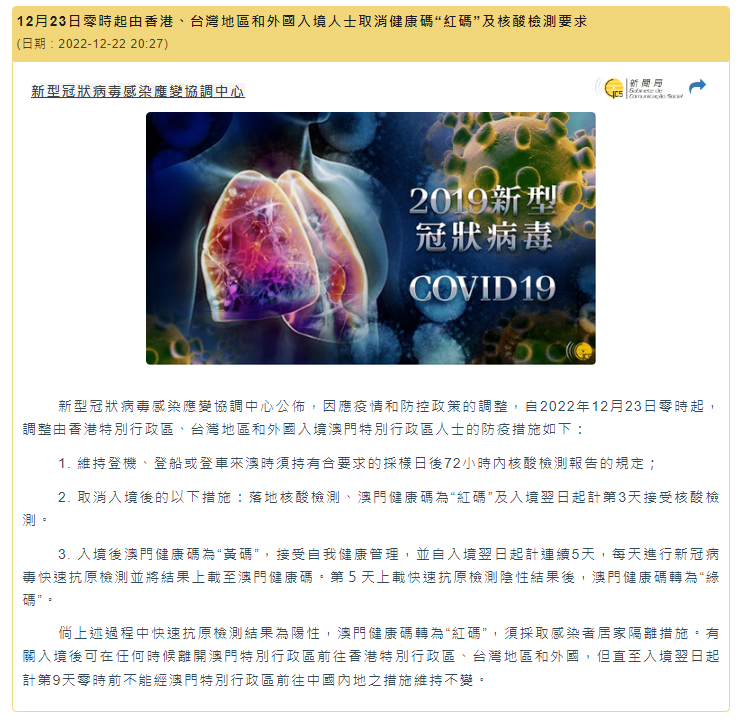 Through this policy change, we can expect the following changes in the future immigration policy!

1. Lift the quarantine
First and foremost: from Hong Kong, Taiwan, overseas areas to enter Macao, no longer quarantine!
Previously, people who entered Macao from Hong Kong, Taiwan or overseas did not have to be quarantined at home for five days.
But now, the "stay at home" is gone! Become 5 days of "self health management".
"Self-health management" means that you can go out freely, but you have to do a quick test every day and report the Macao health code.
If you are negative for 5 consecutive days (starting from the second day of entry to Macau), you will get the green code, no travel restrictions, truly unimpeded!
2. Red code changes to yellow code
In addition to the cancellation of quarantine, Macao entry health code also has a big change: directly cancel the red code, become yellow code!
It used to be that people entering the country were all red codes, so they couldn't go out unless they had to, and basically couldn't go anywhere.
But now the yellow code is free to go out!
Still, the yellow code has some restrictions: You can't enter places that require a health code.
3. You can travel to Macau on the same day
Previously, after entering Macao, there was a three-day departure limit: you had to wait for a nucleic acid test on the third day before you could leave Macao.
But now, this departure restriction is just lifted! After entering Macao, you can leave at any time. You can go to Hong Kong, Taiwan or overseas via Macau, but if you want to transfer to the mainland, you must stay in Macau for nine days.
Mainland entry 0+3 May also be coming!
Two days ago, the Hong Kong media reported that on January 3, the mainland will implement 0+3 entry.
At the Foreign Ministry press conference on December 22, some media also asked whether the 0+3 starting from January 3 is true or not.
After all, there is no official announcement, so she gave a positive answer on behalf of the official, neither denying nor admitting, but also very positive: continuous optimization!
It is worth mentioning that on the afternoon of December 20th, news came from Chengdu that the entry quarantine policy was changed to "2+3" (2 days in hotel quarantine +3 days at home quarantine).
According to media reports, the Chengdu epidemic prevention headquarters said the move should be a trial run of the quarantine hotel in Chengdu, and the current quarantine policy is still "5+3". However, returnees are beginning to expect that quarantine rules in other cities will be lifted soon.
Mainland entry quarantine latest policy!
The following is a summary of the latest entry quarantine policies in some domestic cities:
Beijing:
The quarantine management measures for inbound travelers are five days of intensive quarantine and three days of home quarantine. It is clear that the Ct value of nucleic acid detection is <35 as the criterion for positive entry.
Shanghai:
Inbound passengers are still subject to the 5+3 quarantine policy.
Guangzhou:
According to the official website of the Guangdong Provincial People's Government on December 9, Guangzhou is still implementing the "5+3" entry quarantine policy.
Tianjin:
People entering China will be quarantined for five days and quarantined at home for three days, during which time they will be given code management and not allowed to go out. One nucleic acid test should be conducted on the first, second, third and fifth days of centralized medical observation, and one nucleic acid test should be conducted on the first and third days of home medical observation.
Xiamen:
5 days of intensive quarantine for medical observation +3 days of home health monitoring. During this period, they shall be assigned code management and shall not go out. One nucleic acid test should be conducted on the first, second, third and fifth days of centralized medical observation, and one nucleic acid test should be conducted on the first and third days of home medical observation.
Chongqing:
5 days centralized quarantine +3 days home quarantine.
Shenyang:
Arrivals are still required to be quarantined for 5 days and stay at home for 3 days.
To remind you, the specific information is still official until the dust settles on the policies in different places.
We believe that with the opening-up of the country, we will certainly go back to three years ago, and the future "0+0" will come eventually.
Foreign trade bosses, are you ready?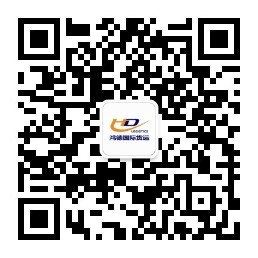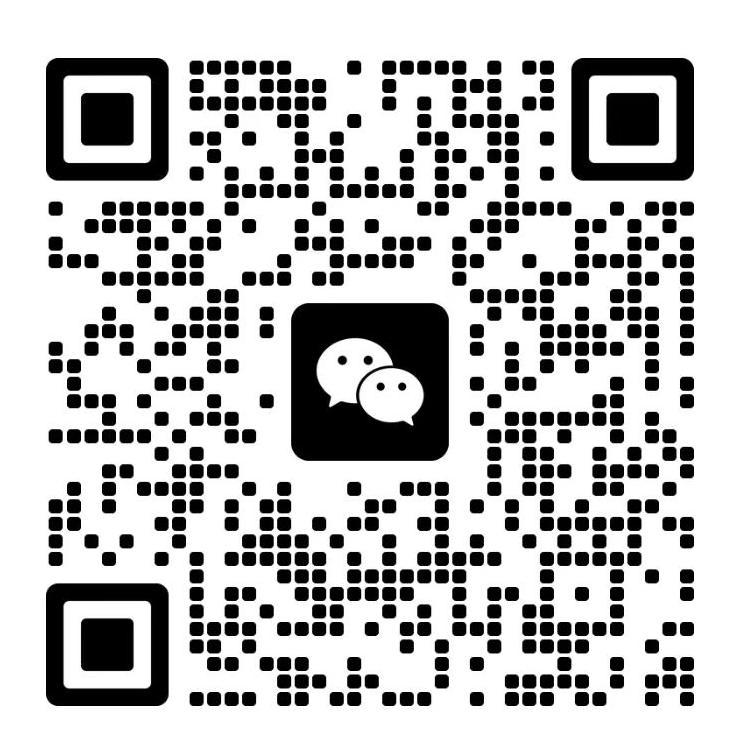 Add: Youli e-commerce Park, No. 199 Guangming South Road, Shiqiao Panyu Guangzhou
